Discover Moab Cliffs & Canyons
Moab Utah's Premier Guide service
Guided Climbing, Canyoneering, & Hiking Trips
Come along on our Full Service Guided Trips! We provide transportation, all the necessary technical gear, backpacks, and snacks on every trip! 
Our Team Has Been Trusted To Serve
More than 50,000 thrilled Guided clients since 1999!
As Moab's oldest Climbing and Canyoneering Guide Service, we've earned the reputation of being the area's Vertical Specialists by safely guiding our clients through some of the most rugged and interesting desert terrain imaginable.
We pride ourselves in being specialists in our area of expertise of rock climbing and canyoneering. We only offer these types of trips without watering down our expertise with other sports such as water or driving sports!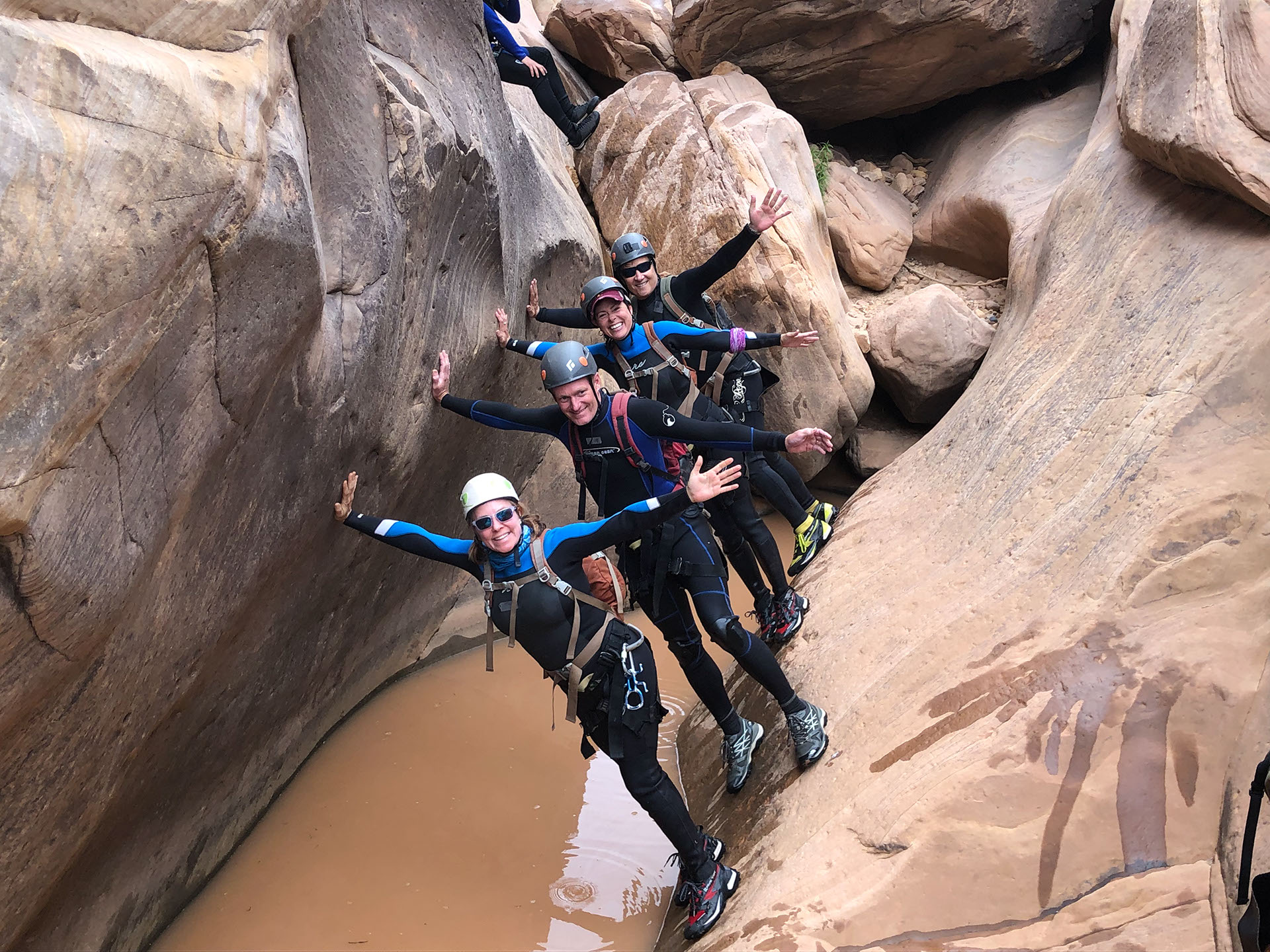 As Professional Guides, we do not take you and your family's safety lightly… building a long term, trusting relationship with our guests is at the core of our business. 
We hire and train only professional guides with a broad depth of personal experience in the vertical world. When your safety is involved it is imperative that your guides have both extensive training, certifications, and personal experience.
With Moab Cliffs & Canyons, you can relax and enjoy the adventure, knowing that you have experienced, safety conscious and highly skilled guides that you can confidently put your trust in.
Canyoneering Trips
Few people can resist peering into a deep canyon. It is a work of art, always in-progress. Specialized tools and techniques allow us to probe the ever-changing canyon floor creating one of the most memorable and exciting experiences of life.
Rock Climbing Trips
Beginning, intermediate, and advanced level trips are customized to your needs and experience level.
Our accomplished guides will show you the best quality climbs at your ability level and lead you to new heights in your climbing skills.
Exclusive Hiking Trips
Our hiking trips are for very small groups (no larger than six), which is why they cost a bit more than outfits that group together as many as thirty people. Our knowledgeable guides can take you places large groups can't fit, and also regale you with stories of the cultural and natural histories, geology, flora, and fauna. 
Rockaneering Trips
Our new "Rockaneering" Adventures are unique!... unlike any other rock climbing or canyoneering trip.  Much like ascending a long alpine rock route, they take place in areas where there is an array of options for climbing, rappelling, walking across fins, exploring slot canyons and enjoying the magnificent views from a whole new perspective. 
Do Something Out Of The Ordinary
Our Most Unique Experiences In Moab
Indian Creek Jam Camp
Desert Crack-Climbing requires certain jamming skills difficult to hone anywhere but on the cliffs of Southeast Utah.
Join us at our Biannual Indian Creek Jam Camp Event.
Canyoneering Courses
Each course will include some "class" time and the descent of one or more canyons. Instructors will encourage you to master certain essential rope skills that form the foundation of safe canyon traveling & expanding your education.
The Art of Offwidth Climbing Clinic with Pamela Shanti Pack
Come join one of the best off-width climbers in the world for an amazing weekend of offwidth climbing mastery and hone your skills for the art of offwidth war!