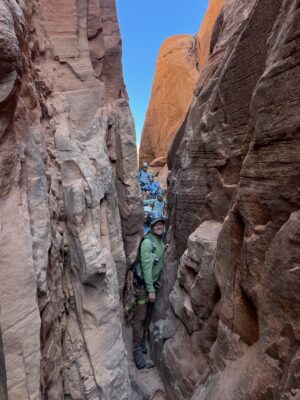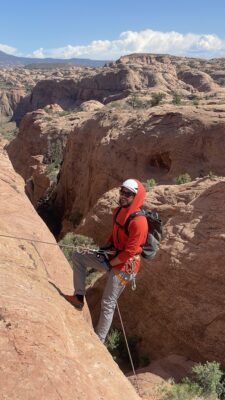 3/4 Day Canyoneering Trip – Fins and Things
Requiring a bit more stamina than our 1/2 Day Trips, our "intermediate" loops are still suitable for people of all skill levels who are used to activity and will enjoy the exertion of scrambling, climbing, and hiking as well as the rope work of canyoneering.
Unique to Southeast Utah, fins are striking geologic formations of towering, elongated, narrow spines of rock. Created by power and persistence, millions of years of flowing water sculpted these noble structures. Luckily, within the space between these extremities often lie opportunities for thrill and adventure. Such as the Fins and Things Canyon. After a short hike and modest roped-descent into this gorge we'll continue down-canyon and venture deeper in, running into fun obstacles along the way. Here in the depths of the sandstone walls you will complete a series of three cascading rappels. Shortly after, the canyon broadens as we exit and begin our hike through a beautiful creek filled corridor. Resisting the temptation to focus solely on the incredible panoramic view promises many opportunities to enjoy the diversity of flora and many hidden displays of historical rock art in this area. Nearing the finish, a full-body swim and waterfall complete the "all-inclusiveness" of this trip!
Private or Chartered Guide
$70 / person added to your cost ensures that no one else will join your party, providing your group with more time for discussion and one-on-one instruction from our professional guides who specialize in the safest climbing/canyoneering techniques as well as the local natural history, geology, flora, and fauna.
Group discount of 10% available for nine or more.
Trip Overview
Duration:  5 – 6 hours
Drive from Moab:  10 minutes
Max. guide to client ratio:  1:7
Season:  April – October, temperatures permitting
Technical:  4 miles of moderate hiking, 4 Rappels (15ft – 50ft) , some short rope-assisted scrambles, short wades through water to full swimming (depending on conditions)
Skill & Fitness Level
No canyoneering experience required
Beginner-intermediate athletic skill level
Must be able to hike 4 miles over natural terrain with steep grades
Must be able to scramble, stem, and climb up, down, or over canyon obstacles with a rope assist
Must be comfortable wading through cold water
Minimum age: 12 years
Children must be mature enough to use reason and logic to mitigate their instinctual fear of backing over a cliff edge and also weigh enough (around 50lbs.) to counter the mass of the rope they'll need to push through their rappel device.
What to Bring
3 liters of water per person
A long sleeve, quick-drying shirt to use to warm up after swims
Extra dry clothes may also be necessary depending on the temperature that day
Sun screen
Lip balm
Brimmed hat
Light long-sleeve shirt (for sun protection)
Sun glasses
Light rain gear
Camera (waterproof)
Extra snacks if you get really hungry, are a growing teenager, or have dietary restrictions or allergies
We provide
Sandwich & snacks
All of the technical gear you will need for canyoneering
Wetsuits, if deemed necessary
Rental canyoneering shoes with extra-sticky rubber for gripping the rock and quick-draining material for comfort for $8
Transportation from our office to the route and back to our office.
What you should wear
Shoes with a soft, flexible sole, such as running shoes or lightweight hiking shoes that you are comfortable possibly getting wet or dirty
No open-toed sandals, please
Clothes that are light-weight and loose fitting to allow you flexibility and freedom of movement
Clothes that are suitable for the season
No cotton jeans or sweatshirts
Departure Times
All trips depart from our office at 253 North Main, Moab UT.  See location on Google map
7:00am or 8:00am, weather depending
Please be at our office at least 15 minutes before departure for check-in.
Early reservations are recommended!
Review Our Cancellation Policies