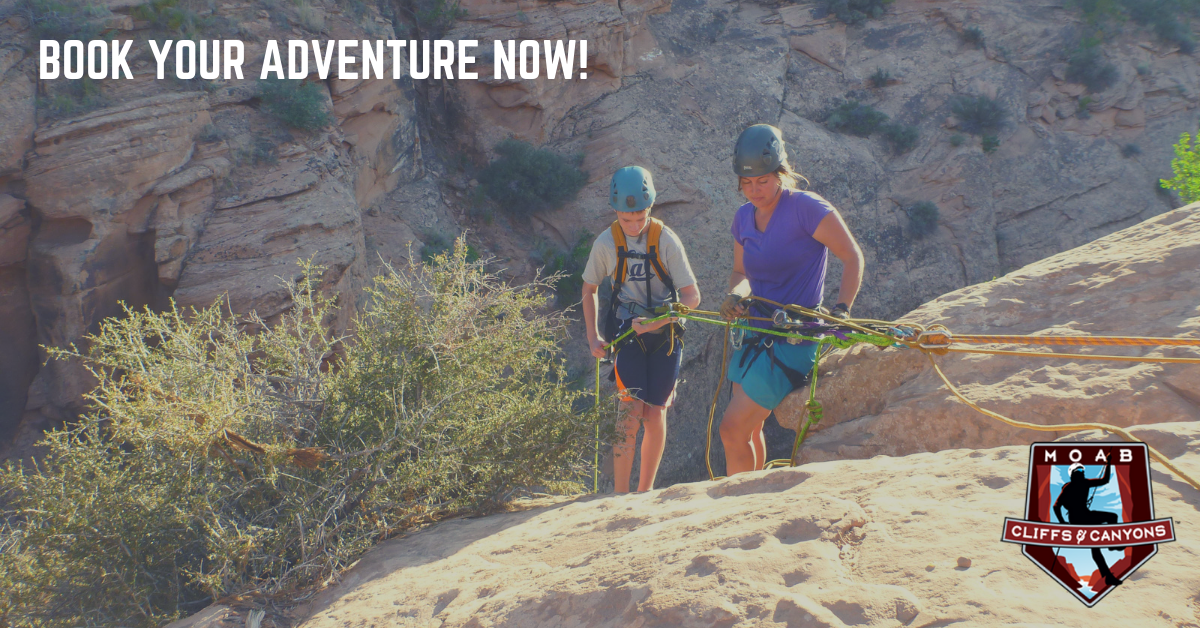 1/2 Day Beginner Canyoneering Trip in Chamisa Canyon
3/4 Day Intermediate Canyoneering Trip in Chamisa Canyon
1/2 Day Beginning Canyoneering Trip – Chamisa Canyon – Moab's Best 1/2 Day Wet Canyon Trip!
Perfect for the beginner or the busy vacationer. Lasting approximately 4-5 hours, our 1/2 Day Trips can be scheduled in the morning or afternoon, are close to town and get you back by meal time.
Pricing
This trip requires 3 people to run for the normal rates, listed below.
If your group only has 2 people and no other party gets added, then we will contact you and give you the option of
1) paying the 2-person price listed below,
2) changing the departure date or time of your trip to join another group, or
3) receiving a full refund.
1 Person – $340 total:
2 People – $340 total:
3+ People – $330+ total:
Private or Chartered Guide
$45 / person added to your cost ensures that no one else will join your party, providing your group with more time for discussion and one-on-one instruction from our professional guides who specialize in the safest climbing/canyoneering techniques as well as the local natural history, geology, flora, and fauna.
Group discount of 10% available for eight or more.
Named for the shrub (also called Rabbitbrush) that inhabits this area, Chamisa Canyon is a trip that packs a lot of punch! Often full of water, this tight canyon is a fantastic abbreviation of what our longer wet canyon trips are like.
Rappels, wading, swimming and beautiful scenery all await you!
If you choose this trip, come prepared to get wet and have a lot of fun.
Trip Overview
Duration:  4 – 5+ hours
Drive from Moab:  20 minutes
Max guide to client ratio:  1:7
Season:  April – October
Technical:  2 miles of moderate hiking, 2 rappels (15ft, 80ft), rope-assisted down climbs, wading and swimming
Skill & Fitness Level
No canyoneering experience required
Beginner athletic skill level
Must be able to hike 3 miles over easy to moderate natural terrain
Minimum age:  8 years
Children must be mature enough to use reason and logic to mitigate their instinctual fear of backing over a cliff edge and also weigh enough (around 50lbs.) to counter the mass of the rope they'll need to push through their rappel device.
What to Bring
We provide
Snacks (granola bars, peanuts, etc)
Drinking water
All of the technical gear you will need for canyoneering
Transportation from our office to the route and back to our office
What you should wear
Shoes with a soft, flexible sole, such as running shoes or lightweight hiking shoes that you are comfortable possibly getting wet or dirty
No open-toed sandals, please
Clothes that are light-weight and loose fitting to allow you flexibility and freedom of movement
Clothes that are suitable for the season
Other items we recommend that you bring
Sun screen
Lip balm
Brimmed hat
Light long-sleeve shirt (for sun protection)
Sun glasses
Light rain gear
Camera
Extra snacks if you get really hungry, are a growing teenager, or have dietary restrictions or allergies
Departure Times
All trips depart from our office at 253 North Main, Moab UT.  See location on Google map
Morning and afternoon departure times are available for this trip. Departure times vary with the season:
03/01 – 04/15     8:00am     2:00pm
04/16 – 05/31     8:00am     3:00pm
06/01 – 08/15     8:00am     4:00pm
08/16 – 09/15     8:00am     3:00pm
09/16 – 10/01     8:00am     3:00pm
10/02 – 11/30     8:00am     2:00pm
Please be at our office at least 15 minutes before departure for check-in.
Early reservations are recommended!
Book Now