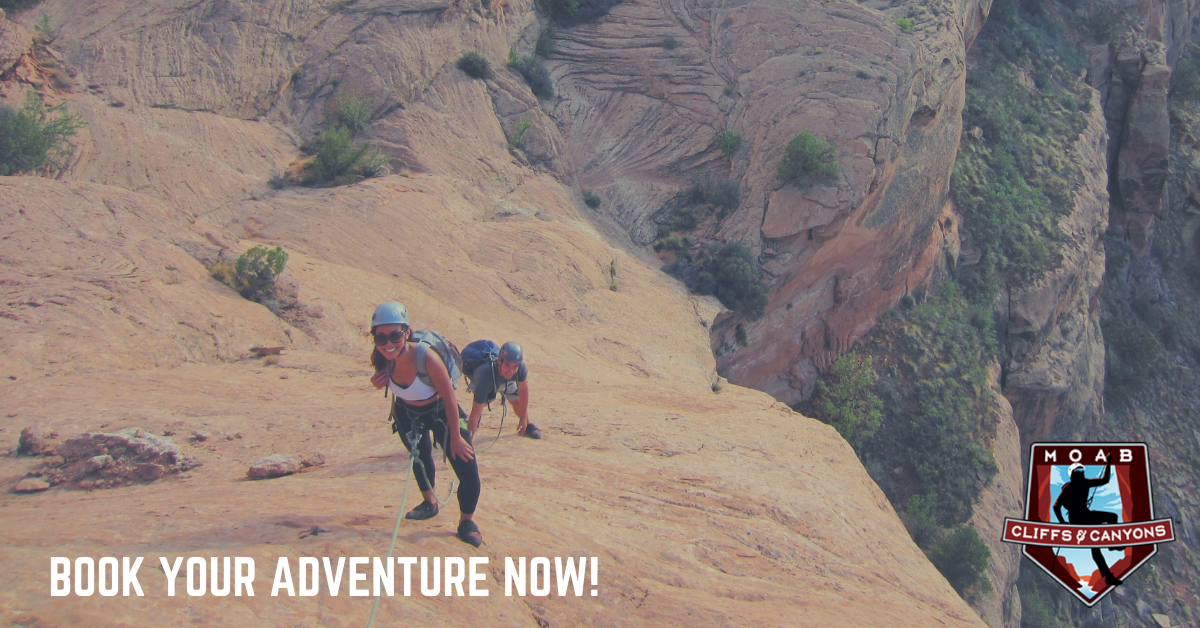 1/2 Day Family Rockaneering Guided Trip
We created this unique Rockaneering adventure especially for active families who want a fun introduction to roped-rock climbing and rappelling. These skills are easy for people of any age to embrace, providing one starts out on very easy terrain and increases the challenges only when everyone has had the same level of success. 
Having been with hundreds of families on our Family Rockaneering Trips, we have learned a lot about what makes a successful family adventure. We see value in offering a casual approach that will build confidence in beginning climbers and their parents who are hoping to instill a future of family adventures involving ropes, cliffs and canyons.
Your guide will set the pace and tone of the trip so that the parents can relinquish some of their responsibilities and enjoy the activity. Then, your guide will give the kids some of the responsibility for team safety and hold them accountable for the safety of themselves and the other members. All of the participants are charged with reaching a common goal, and have equal say in how the goal is reached.
An amazing thing often happens at this point – kids step up to the challenge and become very pro-active about being safe and supportive of the family or group. They listen to the instructions and follow the rules and push themselves to go for new experiences.
Our job is to ensure that everyone has a fun, no-pressure experience.
Your job is to have a fantastic Family Rockaneering Adventure!
**Because of the unique terrain and the opportunities that they present, Family Rockaneering is a Private Trip at no extra cost!**
Trip Overview
Duration:  4-5 hours
Drive from Moab:  10 minutes
Max guide-to-client ratio:  1:6
Season:  Any
Hiking:  1 mile with gradual vertical gain of 300ft to the top of the formation
Technical:  Easy roped-climbing, fun un-roped climbing and scrambling challenges, rappels up 80ft
What you can expect to learn
Casual and easy introduction to roped climbing
Trusting the rope and safety system
How to navigate and be respectful of high places
How to rappel safely
Skill & Fitness Level
No canyoneering or climbing experience required
Beginner-intermediate athletic skill level
Must be able to hike 1 mile over moderate to steep, natural terrain
Must be able to scramble, stem, and climb up, down, or over moderate obstacles with a rope assist
Minimum age:  6 years
What to Bring
2 liters of water per person
Sun screen
Lip balm
Brimmed hat
Light long-sleeve shirt (for sun protection)
Sun glasses
Light rain gear
Camera
Extra snacks if you get really hungry or have dietary restrictions or allergies
We provide
Snacks
All of the technical gear you will need for climbing and rappelling
Transportation from our office to the route and back to our office
What you should wear
Shoes with a soft, flexible sole, such as running shoes or lightweight hiking shoes that you are comfortable possibly getting wet or dirty
No open-toed sandals, please
Clothes that are light-weight and loose fitting to allow you flexibility and freedom of movement
Clothes that are suitable for the season
Departure Times
All trips depart from our office at 253 North Main, Moab UT. See location on Google map
Morning and afternoon departure times available for this trip, depending on the season:
7:00am, 8:00am, 9:00am
2:00pm, 3:oopm, 4:00pm
Please be at our office at least 15 minutes before departure for check-in.
Early reservations are recommended!
Review Our Cancellation Policies