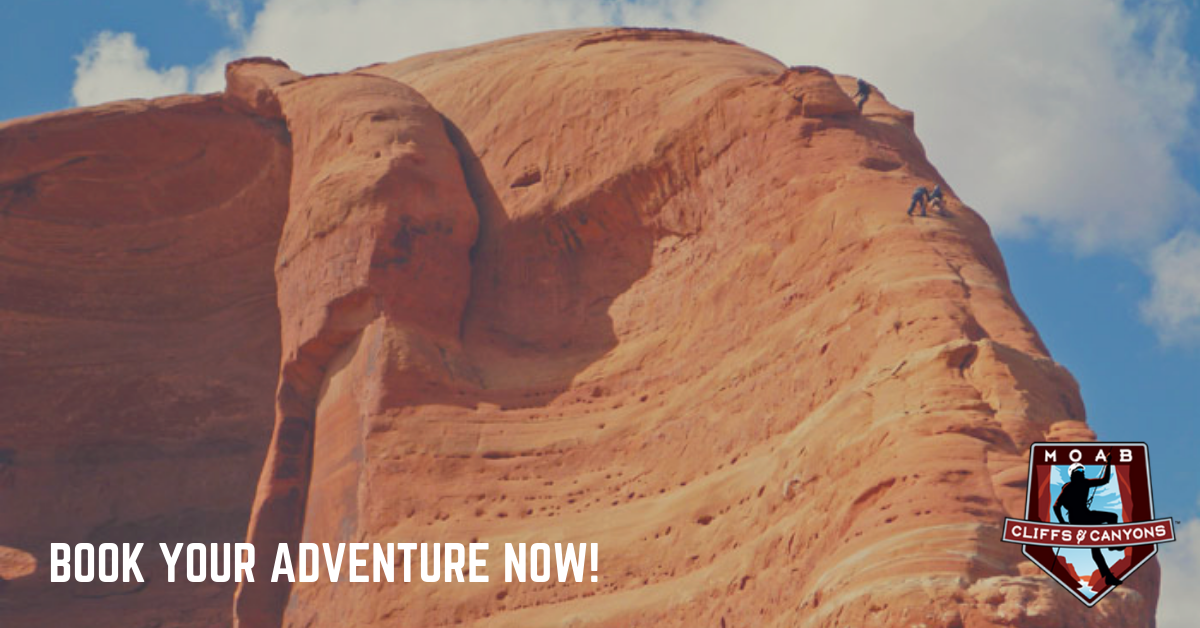 This Entrada sandstone formation has a long and pleasant low-angle rib that allows the beginner climber a chance to climb way off the ground and enjoy expansive views in a secluded area just 20 miles south of Moab.
The climbing is no harder than 5.5 but with a good amount of airy exposure creating the perfect situation for a beginner to attain a summit without needing a lot of strength or previous climbing experience.
Once on top you are free to explore or lounge on the vast, flat summit while your guide prepares the breathtaking 135ft, completely free-hanging rappel through a crazy window of an arch! A nice and relaxed adventure with just the right amount of mental and physical challenge for the beginning or first-time climber.
Pricing
Pricing for this trip corresponds to the total number of people signed-up.
If you are the only person to reserve this trip, you will pay the 1 person price; however, if others enroll, the price for all will drop accordingly. If you would like to reserve a Private or Chartered Trip, see below.
$300 / person for 1 – $300 total
$190 / person for 2 – $360 total
$175 / person for 3+ – $525+ total
Private or chartered guide
$45 / person added to your cost ensures that no one else will join your group, providing your group with more time for discussion and one-on-one instruction from our professional guides who specialize in the safest climbing/canyoneering techniques as well as the local natural history, geology, flora, and fauna.
Group discount of 10% available for eight or more.
Trip Overview
Duration:  4 – 5 hours
Drive from Moab:  15 – 20 minutes
Season:  all year, weather permitting
Max. guide to client ratio:  1:6
Technical:  top roped climbing, 60-100 ft routes
What you can expect to learn
Climbing equipment use and care
Crack and face climbing techniques
Efficient movement
Knots and rope management
Basic belay techniques
Descending and lowering
Safe climbing practices
Skill & Fitness Level
With multiple climbs concentrated together we can accommodate beginning and intermediate skill levels together.
No previous climbing experience necessary
Minimum age:  12 years
What to Bring
We provide
Snacks (granola bars, peanuts, etc)
Transportation from our office to the route and back to our office
What you should wear
Approach or Canyoneering Shoes recommended, yet soft, flexible soles, such as running shoes or lightweight hiking shoes that you are comfortable getting wet, dirty & abused.
Clothes that are light-weight and loose fitting to allow you flexibility and freedom of movement
Clothes that are suitable for the season
Other items we recommend that you bring
Any personal canyoneering gear you have/use (to be reviewed by your instructor)
2-3 liters drinking water
Sun screen
Lip balm
Brimmed hat
Light long-sleeve shirt (for sun protection or as insulation if temps dictate)
Sun glasses
Light rain gear
Camera
Extra snacks if you get really hungry, are a growing teenager, or have dietary restrictions or allergies
Departure Times
All trips depart from our office at 253 North Main, Moab UT. See location on Google map
Please be at our office by 7:45 am to complete any payment or paperwork
Book Now