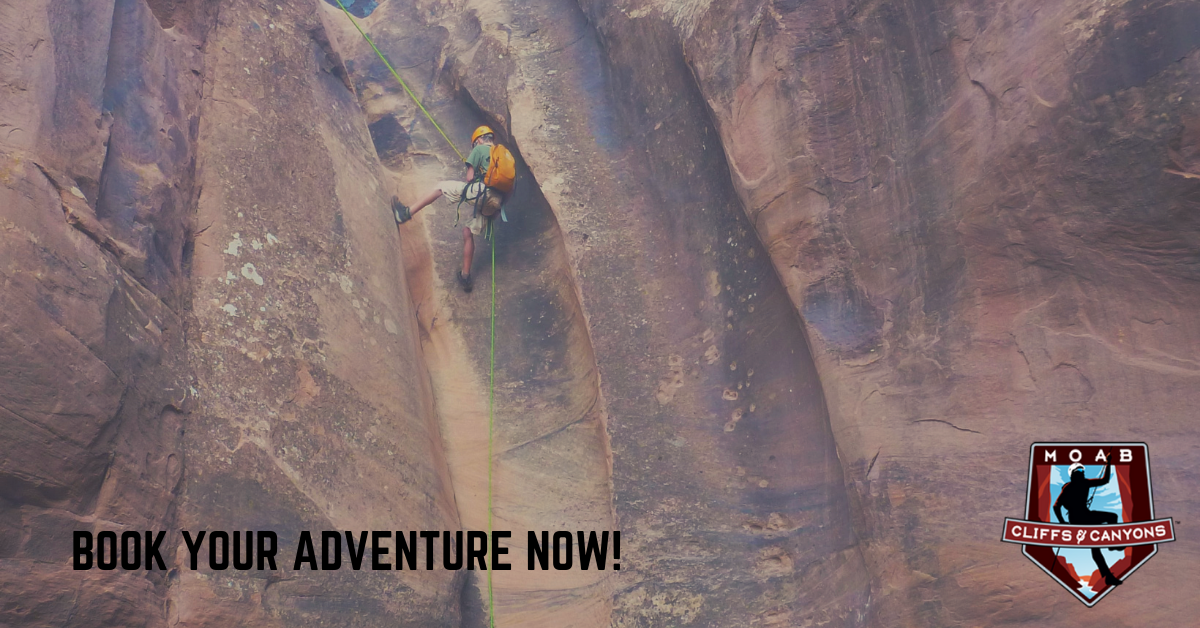 Courses can be scheduled on Request
Intended for those wishing to build a foundation of skills needed to descend canyons independently or to decide if this is the sport they would further like to pursue.
Perfect for beginners with little or no rope experience, rappellers with limited background, or gym climbers who have some rope experience but no canyon-specific training.
The day consists of a half day ground school and half day of skills field work, including: equipment review, simple rope-set ups used in canyoneering, how to rappel, with proper friction, manage safety.
Pricing
This course requires 3 people minimum to run.
$325 / person – minimum group size of 3
Trip Overview
Duration:  5 – 7 hours per day
Drive from Moab:  Up to 20 minutes
Season:  Spring, Summer & Fall (see Course dates)
Max. guide to student ratio:  1:5
Technical Challenges:  Rappels up to 120', hiking and scrambling up to 5.5
What you can expect to learn
Canyon Rating System
Rules, Ethics, Style, Communication and Courtesy
Specific Gear Choices, Requirements, Use and Care
Knots, Bends and Hitches
Reading/interpreting weather forecast and evaluating environmental hazards
Belaying, Lowering and Hand lines
Natural, Artificial, Transient & Human Anchors
Static and Contingency Riggings
Rope Deployment, Coiling, Bagging and Etiquette
Rappelling Techniques & On-Rope Skills (Adding Friction Pre-rappel, Mid-rappel, Locking Off, etc)
Specialized Rappelling Techniques (Hard Starts, Soft Starts, Free-Hanging, Over-Hanging, etc)
Basic Climbing & Down Climbing Skills (Bridging, Stemming, Partner Assists, Partner Captures, etc)
Safety-Checking and Basic Self-Rescue
Intro to Rope Ascension (Mechanical & Improvised)
Skill & Fitness Level
Beginner athletic skill level
Previous climbing & rappelling experience recommended but not required
Must be able to hike up to 3 miles over easy to moderate natural terrain
Minimum age:  12 years
What to Bring
We provide
Snacks (granola bars, peanuts, etc)
All of the technical gear you will need for canyoneering (see below)
Transportation from our office to the route and back to our office
What you should wear
Shoes with a soft, flexible sole, such as running shoes or lightweight hiking shoes that you are comfortable possibly getting wet or dirty
No open-toed sandals, please
Clothes that are light-weight and loose fitting to allow you flexibility and freedom of movement
Clothes that are suitable for the season
Other items we recommend that you bring
Any personal canyoneering gear you have/use (to be reviewed by your instructor)
2 liters drinking water
Sun screen
Lip balm
Brimmed hat
Light long-sleeve shirt (for sun protection or as insulation if temps dictate)
Sun glasses
Light rain gear
Camera
Extra snacks if you get really hungry, are a growing teenager, or have dietary restrictions or allergies
Departure Times
All trips depart from our office at 253 North Main, Moab UT.  See location on Google map
Please be at our office by 7:45 am to complete any payment or paperwork